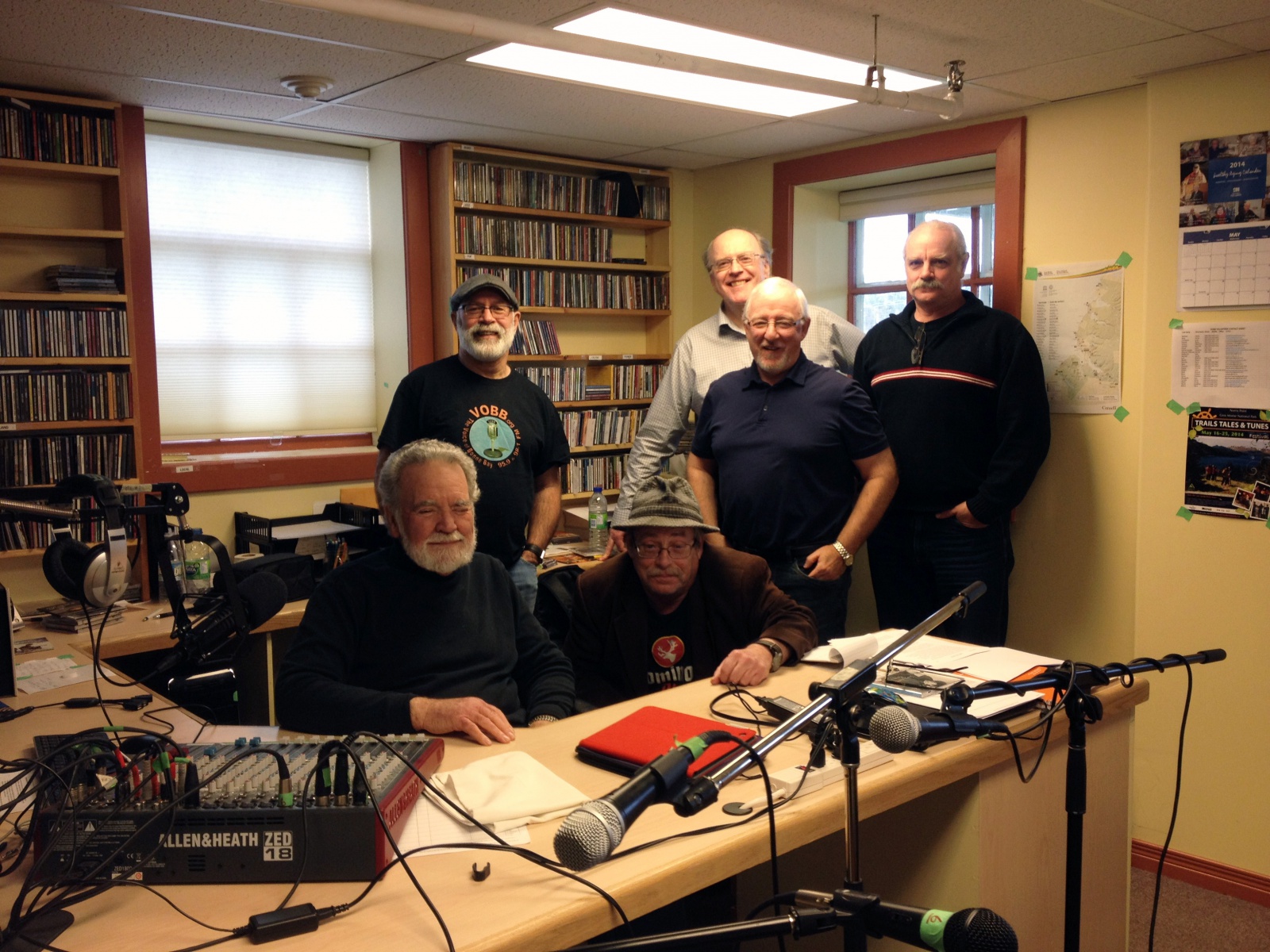 The Voice of Bonne Bay (VOBB) is a community radio station located in Norris Point, in the middle of Gros Morne National Park, in Newfoundland and Labrador. It is officially registered with the Canadian Radio-television and Telecommunications Commission as radio station CHBB. The CRTC is a public organization in Canada mandated as a regulatory agency for broadcasting and telecommunications.
Staffed by dedicated volunteers, VOBB is a certified permanent radio station, broadcasting from Norris Point and also on the Internet.
Visit our Facebook page to check for updates and links that we find interesting. We're also on Twitter and Instagram.
Contact us to request programming or to send comments or suggestions.
---
Background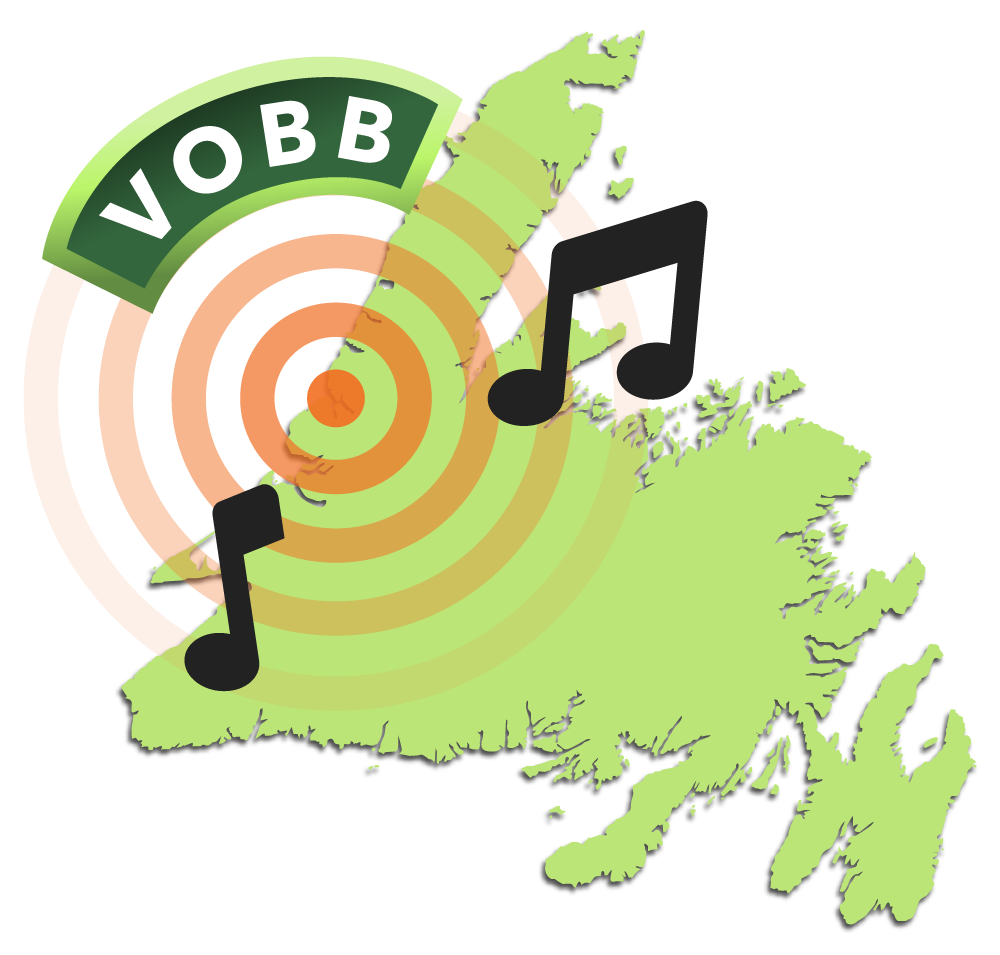 The Bonne Bay Cottage Hospital Heritage Corporation (BBCHHC) is a not-for-profit organization dedicated to the preservation of local culture, promotion of health and wellness, and community economic and social development. Over the past ten years, the cornerstone of the BBCHHC activities has been the conversion of the old Bonne Bay cottage hospital into the Julia Ann Walsh Heritage Centre, which now serves as the nucleus for community development activities.
In 2008, the BBCHHC collaborated with a communications support company to operate a community radio station for the ten-day Trails, Tales, and Tunes (TTT) festival in Norris Point, Newfoundland. Identified as The Voice of Bonne Bay (VOBB), this FM broadcast was so successful that it was repeated in 2009, and again in May 2010. The VOBB also worked with the Community University Research for Recovery Alliance (CURRA) in October 2009 to broadcast a series of public meetings and workshops.
Based on the success of the VOBB experiment and the high level of community support for the concept, the BBCHHC formed a committee to stablish a permanent radio station. This group ensures that the management, operation, and programming will be the responsibility of the community at large.
In November 2009, the Canadian Radio and Television Commission (CRTC) approved in principle an application to establish a permanent FM community radio station in the Julia Ann Walsh Heritage Centre. You can read more on the History of Canadian Broadcasting website.
VOBB aims to provide the citizens and visitors to Bonne Bay with unique radio programming that reflects the aspirations, interests, and individuality of the community. It will actively engage seniors and youth in the development of programming in such areas as health and wellness, culture and heritage, and the environment. It offers a means to develop apprenticeships and training in radio programming and production for volunteers, propagating media related skills throughout the community. Finally, by adopting a cooperative regional development approach, VOBB illustrates how the greater Bonne Bay community can market itself to the world.
---
A Very Brief History
May 17–May 28, 2008: First broadcasts for Trails Tales and Tunes Festival
We formed a committee and enlisted volunteers for broadcasting. VOBB recorded all evening concerts for re-broadcast and presented daily broadcasts from 7:00am to 10:00pm. We had a good variety of community radio shows by and for all age groups in the community. We had more than 200 local people participate in our broadcasts over the 12 days.
May 15–May 25, 2009: Broadcasts for Trails Tales and Tunes Festival
We continued all our popular programs from 2008 and added 6 more radio hosts and 6 new radio shows. We also broadcast pre-recorded Newfoundland folklore from our archives.
October 2009: Canadian University Rural Recovery Alliance (CURRA) Broadcasts
Our first live remote broadcasts and our first joint venture with a university: Memorial University of Newfoundland (Bonne Bay Marine Station).
May 13–May 23, 2010: Broadcasts for Trails Tales and Tunes Festival
We continued to offer a variety of programs and did live remote broadcasts of the evening concerts during the 10 day festival. We also offered our first programs of French music and culture and added several other new programs as well. We also promoted the upcoming Norris Point Come Home Year celebrations.
July 23–July 25, 2010: VOBB for Norris Point Come Home Year Celebrations
Our first co-operative venture with a community. We broadcasted the come home year events for the final 3 days of the celebrations.
May 14–28, 2011: VOBB for Trails, Tales and Tunes Festival
---
VOBB: The Heart of Community Radio
by Dave Morrow (VOBB Radio Host & Park Interpreter, Gros Morne National Park)
6 July 2008
A few months ago, at a planning meeting, Fred Campbell explained to our group how a community radio station would operate. We had decided to operate a 30 watt FM station from the Julia Ann Walsh Heritage Centre during the 10 days of the second annual Trails, Tales, and Tunes Festival in Norris Point. Fred explained that community radio would be very spontaneous in style and many of us wondered: "Would it really work?" He also mentioned a lofty sounding goal of having almost every person in the community come on air and tell their stories during the festival! He also warned that people might be too shy to come on air during the first couple of days.
I had volunteered to be the opening radio host on 17 May largely because of my family's involvement in radio from its earliest days to the present. I hoped the family genes would "kick in" and carry me through that nervous feeling on that first day. I felt that the most important thing to do in the opening broadcast was to establish the station's identity and goals and to invite people to drop in and participate in this exciting community project.
The Voice of Bonne Bay studio was set up with a living room atmosphere, complete with an antique radio to give a comfortable setting for the telling of local stories. During our 9 days of broadcasting, we had people of all ages telling their own stories, reading stories from their favorite books, interviews on topics of local interest, musicians doing live shows (including some of the performers in the festival) and having a group of "hookers" at the station who hooked a mat for donation to the festival helped in generating lots of community participation!
One of the most popular shows was the daily after school broadcast by the students of Gros Morne Academy, our local school. I was very impressed by their enthusiasm and how quickly they became "naturals" on radio. As we moved along with our experiment in community radio, it reminded me of the stories my mother told me about her family's pioneering radio station in the 1920s. Of course, it was all live broadcasting back then and the radio studio was in the living room of their house in Charlottetown, PEI. People would drop in for performances on this new medium much like what we were doing on VOBB in the year 2008. We were re-creating the early days of radio, complete with its live character.
Reports from the community were telling us that in many homes the television and the computers were hardly used at all during the festival as people were listening to their friends and family members on VOBB each day. On the other hand, people were also spreading the word about our simulcast on the internet, and reports were coming in that by this modern medium, we had lots of listeners in Ontario, Alberta, and many other locations around the world, including Norway, South Korea, and Australia. Most of these listeners were expatriate Newfoundlanders who really enjoyed this link with a far away home. My grandfather, the radio pioneer, would have been amazed!
I think I can speak for the volunteer on-air radio hosts that we were all newcomers at this and we were all nervous at first, but we quickly overcame that fear and got swept up in the experience. George Tucker summed it up when he said: "I only intended to do a couple of hours but it was so much fun I stayed almost all day, until I realized the family was waiting for me to come home for supper!"
This experiment in community radio brought the community together and raised the level of community pride to levels I've never seen before. More than a month later, people are still talking about VOBB and asking: "Can we have a permanent community radio station? That was really great for the town!" People have seen the potential of community radio in the Gros Morne National Park area, considering we have some 160,000 visitors from around the world each year as well as the local audience.
After the end of the last broadcast we went through the station logbook and arrived at a total of over 200 people that had participated in the VOBB broadcasts during the 9 days we were on air. Not bad for a town of only 800! I think we earned the title "the little radio station with the big community heart."